QUEST Journal of Management and Social Sciences
ISSN Print: 2705-4527 ISSN Online: 2705-4535
Quest Journal of Management and Social Sciences (QJMSS) is a double-blind peer reviewed scholarly journal devoted in publishing high-quality papers using multidisciplinary approaches with a strong emphasis on emerging issues of business, economics, communication, management, finance, administration, English and social issues in half yearly basis. It was established in 2019 to accommodate qualitative, quantitative and mixed methods of research. It is not for profit and fully abides to UGC and QAA guidelines. Its main purpose is to disseminate ideas and research findings in various socio-economic development and managerial issues related to Nepal and other countries. It brings out scholarly research articles and other features. It intends to serve as an outlet with strong theoretical and empirical research for an intellectual forum for the communication of ideas among social scientists in Nepal and rest of the world
---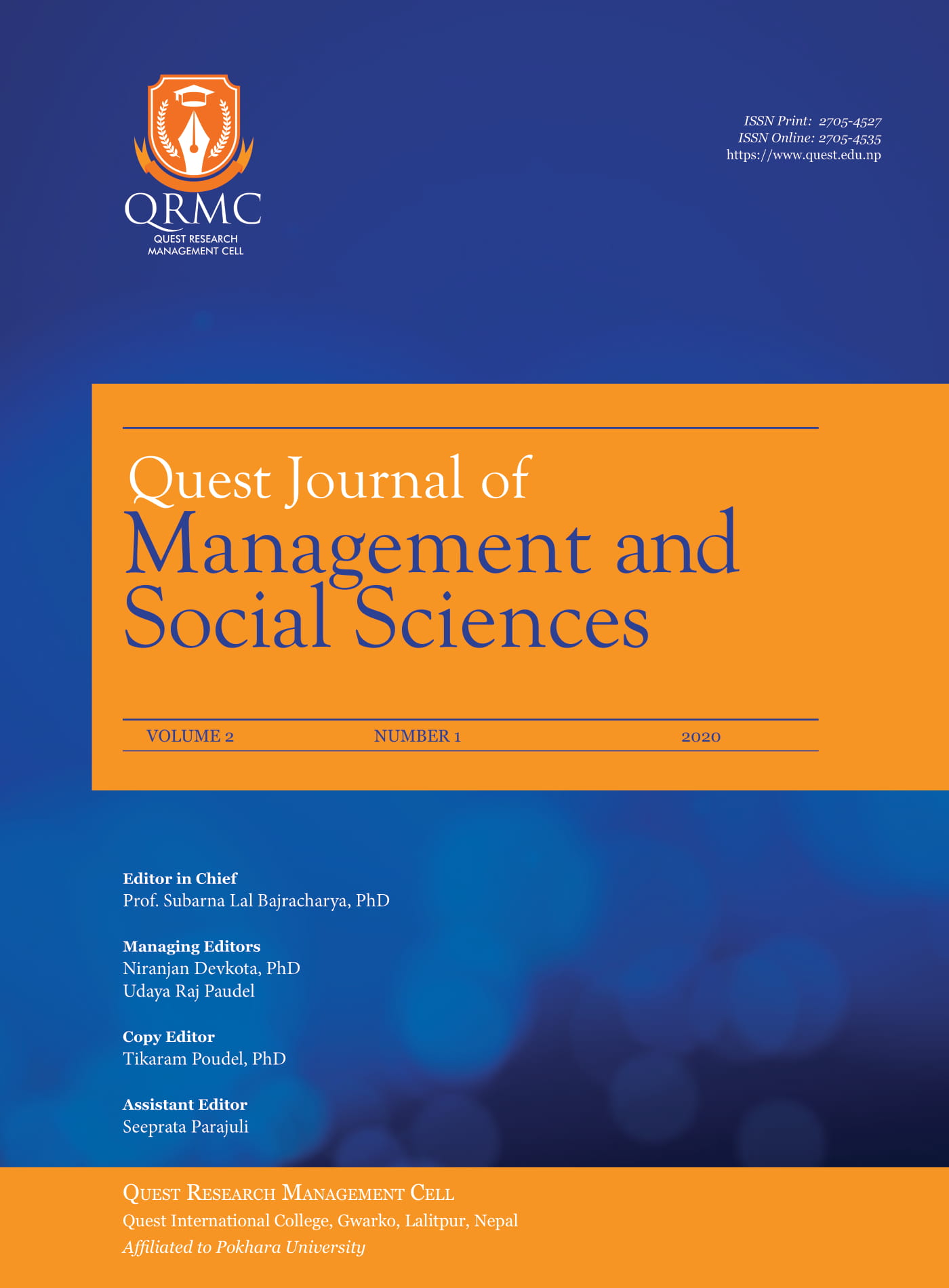 Authors Guidelines
Quest Journal of Management and Social Sciences (QJMSS) is a double-blind peer reviewed scholarly journal devoted in publishing high-quality papers using multidisciplinary approaches with a strong emphasis on emerging issues of business.
Submission Information
Interested authors are required to submit their papers with the length of 5000 to 6,000 words. The papers submitted to QJMSS should not have been published or be under consideration for publication elsewhere. The edi¬torial board reserves the complete right about accepting or rejecting the received articles. The opinion expressed in the articles are those of authors and do not necessarily reflect the views of editors or publishers. The copyright of the accepted articles is reserved by the Quest International College, Pokhara University. No part of the article published in this journal should be reproduced except provided by the law currently inforce without the written consent of the centre.
Manuscript Preparation Instructions
General Guidelines
Manuscripts are invited from students, academicians, researchers and practicenors for publication consideration in all areas related to the theme management and social sciences.
All manuscripts should be submitted electronically in English language to the publication section of Quest Research Management Cell (Quest-RMC) @ [email protected]
The soft copy must be in word file.
The manuscript must follow QJMSS authors' guidelines.
As all articles are subject to double blind peer review process. Authors are requested to re-check entire name and identifiable document and remove it before sending it to the journal.
A separate page should provide with the authors information and their respective institutional affiliation with full detail, email and phone number of all authors. Authors can include acknowledgement and information on grant received should be given.
Each manuscript must include 200 to 250 words abstract.
Each manuscript must include 4 to 6 key words
Use font type Times New Roman throughout the manuscript.
Follow APA rules for headings, subheadings, tables, figures and food note.
Important formulae, figures and tables should be numbered consecutively throughout the manuscript. All the figures and tables should be placed in the manuscript where it is necessary.
QJMSS is published on the half yearly basis (January-June and July-December).
---
Referencing
References should be complete and follow the latest APA Style. For Examples:
Journal Articles
No Author

A student guide to APA format. (1997). Psychology Weekly, 8, 13-27.

Single Author

Malla, G. (2008). Climate change and its impact on Nepalese agriculture. Journal of agriculture and environment, 9(1), 62-71.

Two Authors

Paudel, U. R., & Devkota, N. (2018). Socio-Economic Influences on Small Business Performance in Nepal-India Open Border: Evidence from Cross-Sectional Analysis. Economics & Sociology, 11(4), 11-30.

Three to Seven Authors

Paudel, U. R., Devkota, N., Ghale, B. A., & Adhikari, K. (2018). Communication and Gender in Bachelor's Degree Students' Adjustment Process: A Study in Kathmandu, Nepal. Journal of Education, Society and Behavioural Science, 27(4), 1-9.

More Than Seven Authors

Miller, F. H., Choi, M. J., Angeli, L. L., Harland, A. A., Stamos, J. A., Thomas, S. T., . . . Rubin, L. H. (2009). Web site usability for the blind and low-vision user. Technical Communication 57, 323-335.
Book
No Author

A student guide to APA format. (1997). Psychology Weekly, 8, 13-27.

Single Author

Malla, G. (2008). Climate change and its impact on Nepalese agriculture. Journal of agriculture and environment, 9(1), 62-71.

Two Authors

Paudel, U. R., & Devkota, N. (2018). Socio-Economic Influences on Small Business Performance in Nepal-India Open Border: Evidence from Cross-Sectional Analysis. Economics & Sociology, 11(4), 11-30.

Three to Seven Authors

Paudel, U. R., Devkota, N., Ghale, B. A., & Adhikari, K. (2018). Communication and Gender in Bachelor's Degree Students' Adjustment Process: A Study in Kathmandu, Nepal. Journal of Education, Society and Behavioural Science, 27(4), 1-9.

More Than Seven Authors Authors

Black, C. P., Arlo, S. T., Rechit, R., Machlen, J. P., Sempson, K., Bee, A. L., . . . Clark, S. P. (2001). APA format for psychology students. Newark, NJ: Prentice-Hall.

Organization as Author

American Psychological Association. (2009). Blog guidelines. APA Style Blog. Retrieved from https://blog.apastyle.org/apastyle/blog-guidelines.html

Two or More Works by the Same Author in the Same Year

Berndt, T. J. (1981a). Age changes and changes over time in prosocial intentions and behavior between friends. Developmental Psychology, 17, 408-416.
Berndt, T. J. (1981b). Effects of friendship on prosocial intentions and behavior. Child Development, 52, 636-643.

Newspaper article in print

Rosenberg, G. (1997, March 31). Electronic discovery proves an effective legal weapon.The New York Times, p. D5
.

Newspaper article available online

Rosenberg, G. (1997, March 31). Electronic discovery proves an effective legal weapon.The New York Times, Retrieved from http://www.nytimes.com

Chapter in Print

Hemingway, E. (1999). The killers. In J. Updike & K. Kenison (Eds.), The best American short stories of the century (pp.78-80). Boston, MA: Houghton Mifflin.

Chapter Available Online

Bellow, S. (1999). A silver dish. In J. Updike & K. Kenison (Eds.), The best american short stories of the century. Retrieved from http://books.google.com

Introduction, Preface, Foreword, or Afterword

Sanders, S. R. (2007). [Introduction]. In L. Williford & M. Martone (Eds.), Touchstone anthology of contemporary creative nonfiction: Work from 1970 to present (pp. 148-151). New York, NY: Simon & Schuster.

Dictionary Online in APA Format

Hemorrhage [Def. 1]. (n.d.). Merriam-Webster Online. In Merriam-Webster. Retrieved January 2, 2013, from http://www.merriam-webster.com/dictionary/citation.

Journal Article from a Database Online

Ahn, H.,; Kim, K. (2008). Using genetic algorithms to optimize nearest neighbors for data mining. Annals of Operations Research, 263(1), 5-18. doi:10.1007/s10479-0080325-2

Encyclopedia in Print

McGhee, K., & McKay, G. (2007). Insects. In Encyclopedia of Animals. (pp. 170-171). Washington, DC: National Geographic Society.

Encyclopedia available Online

Bunson, M. R. (2012). Historical Overview. In Encyclopedia on Ancient Egypt. (3rd ed., pp. Xii-Xv). Retrieved from http://www.infobasepublishing.com/.

Encyclopedia on a Database

Bunson, M. R. (2012). Historical Overview. In Encyclopedia on Ancient Egypt. (3rd ed., pp. Xii-Xv). New York, NY: Infobase Publishing. Retrieved January 3, 2013, from http://www.infobasepublishing.com

Magazine in Print

Rothbart, D. (2008, October). How I caught up with dad. Men's Health, 108-113.

Magazine Online

Rothbart, D. (2008, October). How I caught up with dad. Men's Health, 108-113. Retrieved from http://books.google.com

Magazine on a Database

China's export prospects: Fear of the dragon. (2010, January). The Economist. Retrieved from http://academic.lexisnexis.com

Magazine Published Directly Online

Bradley, K. (2012, December). The trick to tomatoes. Green Lifestyle Magazine. Retrieved from http://www.gmagazinecom.au/features/3530/trick-tomatoes

Website

Cain, K. (2012, June 29). The Negative effects of Facebook on communication. Social Media Today RSS. Retrieved from http://socialmediatoday.com

Blog Post

Schonfeld, E. (2010, May 3). Google throws $38.8 million to the wind [Web log post]. Retrieved May 4, 2010, from http://techcrunch.com
---